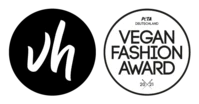 Be Good Hoodie – sand
100% Cotton
All cotton was grown by Fairtrade producers, certified and traded according toFairtrade standards. More info: info.fairtrade.net/sourcing.
These products are C2C certified.
C2C means cradle to cradle. But what does Cradel to Cradel mean and what does it have to do with fashion?
Cradel 2 Cradel – From the cradle to the cradle.
C2C is a strong counter design to today's throwaway society. Today's goods are mostly produced according to the principle "from cradle to grave". This means that goods are produced and thrown away after use. With C2C, however, the product is reintroduced into the cycle.
A compostable garment according to the Cradle to Cradle principle means that it can be 100% biodegraded and no harmful substances remain.
The garment is therefore added to the natural cycle for composting as an organic material at 100%. Resources are not lost and 0% waste is produced. During composting, the organic material of the textiles is decomposed by microorganisms and reused as fertile soil in gardens and fields. In the process, the textiles take up to 6 months to completely decompose.
€79,90
inklusive Mwst.
Support product and earn money